SLO police investigate bomb threat at office building
March 9, 2023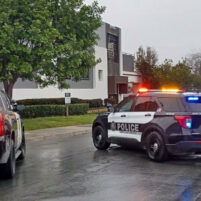 By JOSH FRIEDMAN
A person, who is possibly mentally ill, allegedly made a false bomb threat at an office building on Peach Street in San Luis Obispo on Thursday afternoon.
A caller reported the threat at 2:30 p.m., police said. Officers and SLO County Sheriff's deputies then responded to Peach Street Professional Plaza at 1035 Peach Street. Authorities closed Peach Street between Santa Rosa and Osos streets. 
Officers investigated the threat and searched inside the building with help from a K-9. Investigators determined the building was safe.
Authorities left the area and reopened the street by about 3:20 p.m.