Pismo Beach traffic stop nets gun and two arrests
April 16, 2023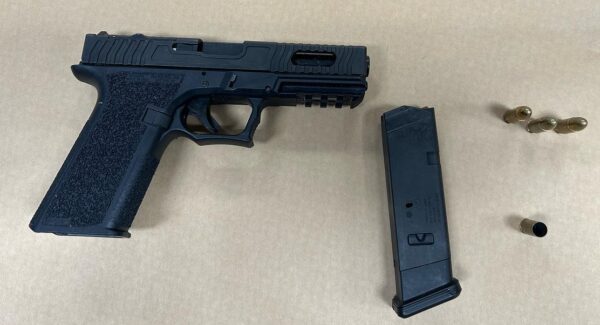 By KAREN VELIE
During a traffic stop this weekend, Pismo Beach police officers confiscated a gun and arrested both a suspect wanted on a felony warrant and a person on parole.
At 11:58 p.m. Friday, officers stopped a car for vehicle violations, according to the Pismo Beach Police Department. Six people visiting from out of the area were inside the car.
Investigators discovered the driver and a passenger both had warrants. Another passenger was on California Department of Corrections and Rehabilitation parole, police say.
Officers detained all occupants of the vehicle and searched the car. They found a loaded 9mm handgun on the floor of the backseat where the parolee was sitting. The firearm was a ghost gun with no serial number.
Police cited the driver for vehicle violations and for having an out-of-county misdemeanor warrant. They then released the driver. 
Officers arrested the passenger who had an out-of-county felony warrant. They also arrested the parolee for several felony weapons charges and for a parole violation. 
Authorities booked both individuals in San Luis Obispo County Jail.