Coastal Commission overstepped authority on Oceano Dunes, judge rules
July 19, 2023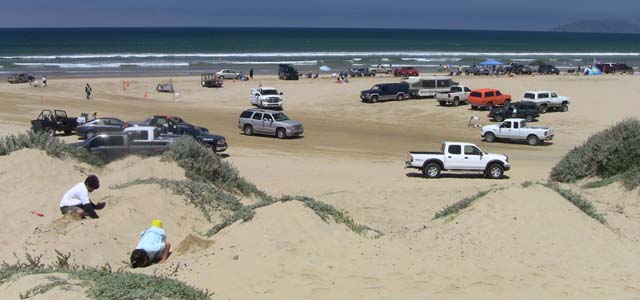 By KAREN VELIE
The California Coastal Commission overstepped its authority when it voted to phase out off-road vehicle usage at the Oceano Dunes by 2025, according to a July 19 court ruling. The Coastal Commission also violated the law when it shut down the Pier Avenue entrance to the Oceano Dunes State Recreational Area.
In March 2021, the Coastal Commission voted unanimously to phase out off-road vehicle usage at the Oceano Dunes over three years and to close the Pier Avenue entrance by July 1, 2022.
At the time, commissioners argued vehicle usage at the dunes harms the environment and does not comply with the California Coastal Act. The commissioners also cited environmental justice as a justification for closing the park to vehicles.
Friends of Oceano Dunes, a nonprofit that represents approximately 28,000 supporters of off-road recreation, previously indicated it was ready to take legal action if either the Coastal Commission or California State Parks were to attempt to ban or reduce off-road vehicle usage at the dunes.
The organization has successfully sued several state agencies, including the Coastal Commission, for failing to follow laws in their oversight of the dunes. After each win, Friends of Oceano Dunes has successfully sought court costs and attorney fees.
A week before the March 2021 Coastal Commission vote, Thomas Roth, the San Francisco-based attorney for Friends of Oceano Dunes, sent a letter accusing the Coastal Commission of bias, overstepping its legislative authority and violating due process.
In 1975, the dunes were set aside for off-road vehicle recreation as part of the California Coastal Plan, which says off-road vehicle use "shall be permitted."
"The Coastal Commission has jumped the shark," Roth wrote in his letter. "It has no authority to direct State Parks to ban all OHV (off-highway vehicle) at a park expressly authorized for OHV use, especially where that use has lawfully existed for 40 years, and where the use predated even the creation of the Coastal Commission."
San Luis Obispo Superior Court Judge Tana Coates ruled Wednesday in favor of Friends of the Oceano Dunes.
"The court finds that in permanently prohibiting all off-highway vehicles in the Oceano Dunes State Recreational Area, the Coastal Communion acted 'without, or in excess of its jurisdiction,'" Coates wrote in her ruling. "The court also finds the Coastal Commission violated CEQA by deciding to close the Pier Avenue entrance to the Oceano Dunes State Recreational Area without evaluating how it would impact vehicle miles traveled."