Syphilis rates rising in SLO County amid medication shortage
July 31, 2023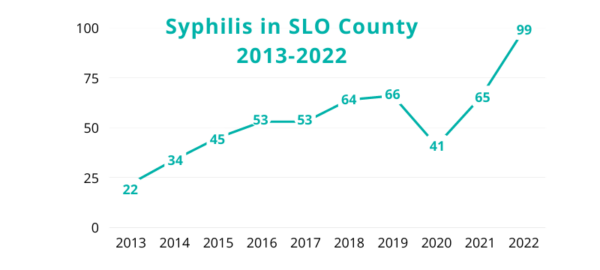 By JOSH FRIEDMAN
Syphilis rates in San Luis Obispo County have spiked over the last decade, culminating with the county recording nearly 100 cases of the infection last year.
In 2013, SLO County had a total of 22 diagnosed cases of syphilis. Since then, the county had a steady rise in cases, followed by a brief decline in 2020. Over the last three years, the county's case total rose from 41 in 2020 to 65 in 2021 to 99 in 2022, according to the SLO County Public Health Department.
The county's increase is consistent with statewide and nationwide trends, officials say. The rise in cases also comes as patients and healthcare providers face a nationwide shortage of the medication most commonly used to treat syphilis. 
Syphilis is transmitted through sexual contact or from a mother to an unborn baby during pregnancy. Many individuals who contract syphilis do not notice early symptoms, so they may not be aware they are infected. 
Blood tests can identify syphilis, and antibiotics can cure the infection. If syphilis is not treated, it can eventually spread to the brain and nervous system or to the eye, resulting in conditions like hearing loss, stroke and blindness. Babies born with syphilis may have serious health problems or even die from the infection as an infant. 
Bicillin L-A, an injection of long-acting penicillin, is the most common way to treat syphilis. Bicillin L-A is currently in low supply nationally due to surging demand.
Other medications are also effective but require a longer course of treatment, health officials say.
"Syphilis can be prevented and, even amid this medication shortage, it can be cured if it is found in the early stages," SLO County Health Officer Dr. Penny Borenstein said in a statement. "However, syphilis can cause very serious health problems if it is left untreated and can be especially devastating when it is transmitted to a baby during pregnancy and birth. Our public health team is here to help you protect yourself, get tested and get treatment if needed.
"If you have symptoms or think you may have been exposed to syphilis, please don't let this shortage deter you from getting tested — there are still good options available and it's important to treat syphilis as soon as possible so it doesn't cause further damage to your body," Dr. Borenstein said.
The SLO County Public Health Department says it offers confidential, low-cost testing, treatment and education for all sexually transmitted infections, including syphilis.