Developers of Cerro Hotel project battle over who will cover losses
August 2, 2023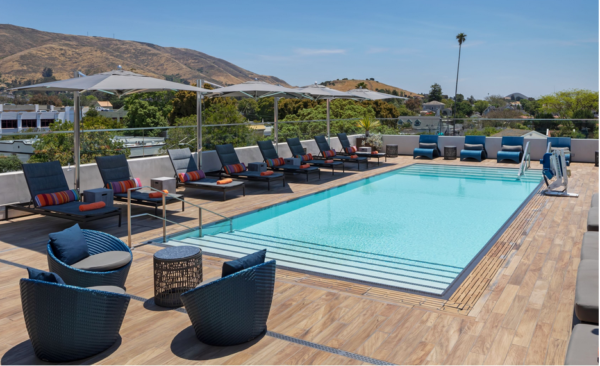 Editor's note: This is the second in a two-part series regarding allegations of fraud and breach of contract against high-profile developer Hamish Marshall.
By KAREN VELIE
San Luis Obispo developer Hamish Marshall is at the center of a lawsuit seeking more than $10 million for his alleged failure to pay his portion of losses in the Cerro Hotel project.
Marshall, Charles Braff, Alex Pananides and Patrick Smith formed a partnership in 2015 with plans to build a 65-room luxury hotel, two commercial condominiums and eight residential condominiums on Garden Street in SLO. The partners planned to own and operate the hotel.
To fund their project, Pananides and Smith obtained a $15 million construction loan from Montecito Bank & Trust, which the two agreed to personally guarantee as long as Marshall and Braff entered into a contribution and indemnity agreement. The agreement assigns 25% of the risk to Pananides, 25% to Smith and 50% jointly to Marshall and Braff.
In 2018, Marshall informed Pananides and Smith he was having trouble meeting his share of capital calls to fund construction costs, according to the lawsuit.
Marshall later agreed to sell his interest in the commercial condominium to Pananides and Smith for $4.5 million. However, the City of SLO refused to issue a certificate of occupancy for the condominium units, which were encumbered by mechanic liens, and the deal fell through.
In his attempts to raise funds, Marshall brought in investors regarding his and Braff's ownership interest and secured an additional loan from Montecito Bank & Trust.
In 2019, Sahara Construction placed a mechanics lien for $351,509 on the hotel property which named the partners, Montecito Bank & Trust and Specialty Construction the general contractor on the project. On March 13, 2020, Specialty Construction attempted to foreclose on a mechanics lien for $6,227,860.
Specialty Construction took significantly longer on the project at a much higher cost than it had projected, and the partners planned to fight the construction company in court, the partners allege in court filings.
Nevertheless, the Montecito Bank & Trust loan was due in Nov. 2019 leading Pananides and Smith to ask Marshall and Braff to cover their 50% of the $15 million construction loan. Marshall and Braff refused, according to the lawsuit.
Marshall and Braff also failed to pay their portion of legal costs regarding the mechanic liens which ran approximately $175,000 per month, Pananides and Smith allege in their lawsuit.
To stop the mounting financial losses, the partners sold Hotel Cerro for $34.5 million on Feb. 15, 2023, after Pananides and Smith secured bonds to cover the mechanic liens. However, the proceeds did not cover costs associated with loans, unpaid taxes, the surety bonds and other expenses, according to the lawsuit.
The sale of the project has drawn the attention of other investors who have expressed concerns regarding what they perceive as an undervalued sales price. Additionally, these investors contend that Marshall and Braff neglected to inform them about the impending sale, raising further questions.
Pananides and Smith demanded Marshall pay his share of losses, but Marshall refused, according to the lawsuit Pananides and Smith filed against Marshall on May 14 seeking damages of more than $10,019,242, interest, court costs and legal fees.