Paso Robles man sentenced to life in prison
August 1, 2023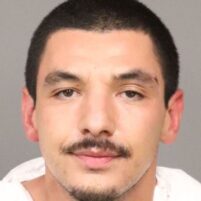 By KAREN VELIE
A Paso Robles repeat offender was sentenced to 77 years to life plus 41 years in prison for attempted robbery, robbery, carjacking and reckless evasion of a peace officer.
In May, a San Luis Obispo County jury convicted Garcia of robbery, attempted robbery, carjacking and reckless evasion of a peace officer. Jurors also found that Garcia fired a handgun during the robbery.
In a separate hearing, Judge Timothy Covello determined Garcia had prior convictions for assault with a firearm for the benefit of a criminal street gang and assault with a firearm. Both convictions count as strikes under California's Three Strikes Law.
On Nov. 24, 2021, Garcia entered Carl's Jr. restaurant on Black Oak Drive in Paso Robles and demanded money from a 15-year-old employee while pointing a handgun about six inches from the teen's face. After another employee called 911, Garcia fled the restaurant without any money.
Three hours later, armed with a handgun,  Garcia entered the Chevron Gas Station on Ramada Drive and demanded money. He then fired a gunshot over an employee's shoulder and into the ceiling. Garcia fled in a dark BMW sedan with an undisclosed amount of cash.
Shortly afterwards, Paso Robles police officers located and attempted to stop the BMW. However, Garcia drove away and led officers on a high-speed pursuit along rural Nacimiento Lake Drive. The pursuit ended near Lake Nacimiento Resort, where Garcia fled on foot.
Three days later, Garcia carjacked a woman outside of an apartment complex on Creston Road in Paso Robles. Garcia opened the woman's driver side door and ordered her to get out. She ran from her vehicle and watched as Garcia got in and drove away. The car was found abandoned about three and a half hours later.
The next day, officers spotted Garcia in the area of the carjacking. Garcia ran but was arrested after a half-mile foot pursuit. When officers searched him, they found methamphetamine in his pocket.