Police searching for Santa Barbara bank robber
September 9, 2023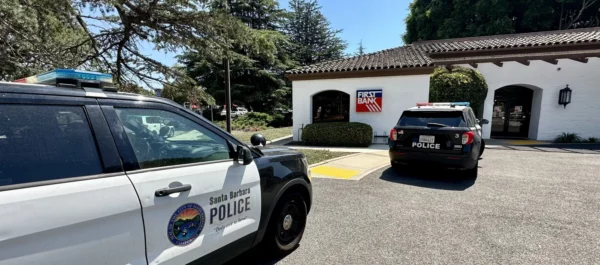 By JOSH FRIEDMAN
Police are searching for a man who robbed a bank in Santa Barbara on Friday. 
Shortly before noon, a man wearing a mask entered the First Bank branch at 3304 State Street and demanded money. The teller handed the robber an undisclosed amount of cash from the drawer. The suspect then fled the bank by foot, according to the Santa Barbara Police Department. 
Detectives arrived at the scene and launched an investigation into the robbery. Authorities also alerted the FBI.
Police describe the suspect as a heavier-set man in his mid-40s. The robber was wearing a long sleeve black jacket, tan khaki pants and black shoes. 
Officials request that anyone who has information about the robbery call the Santa Barbara Police Detective Bureau at (805) 897-2347.