Scientist to report on Oceano Dunes despite Gibson, Paulding's objections
September 26, 2023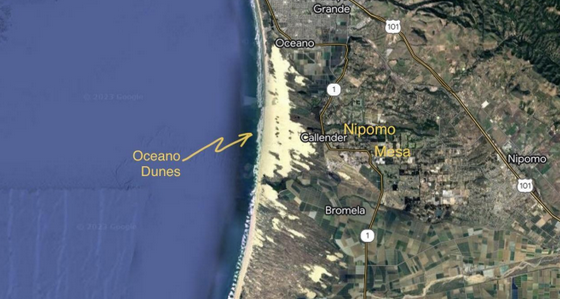 By KAREN VELIE
Despite objections from supervisors Bruce Gibson and Jimmy Paulding, a scientist with the prestigious Scripps Institution of Oceanography is scheduled on Wednesday to present findings from a study that refutes previous assumptions made by the San Luis Obispo County Air Pollution Control District (APCD) regarding dust on the Oceano Dunes.
In 1975, the dunes were set aside for off-road vehicle recreation as part of the California Coastal Plan, which states off-road vehicle use "shall be permitted." State Parks currently operates an off-vehicle park at the Oceano Dunes that attracts enthusiasts from across the state and the world.
In 2010, the APCD claimed that toxic crystalline silica dust from off-road activity posed a health risk for people living on the Nipomo Mesa. Years later, a study of the dust determined it did not contain crystalline silica.
Since 2011, the APCD has attempted to regulate and fine State Parks for dust blowing on the dunes. In 2018, it imposed a stipulated order of abatement against State Parks, which demanded a reduction of dust blowing on the Mesa.
Over the years, the air district has given varying reasons as to why State Parks should be held accountable. And to one extent or another those reasons all regard the prevailing winds, dust blowing from the riding area, and the argument that 100% of the particles measured were mineral dust.
Lynn Russell PhD, a scientist with the Scripps Institution of Oceanography, analyzed the particulate and determined only 14% of the particles blowing on the Mesa consist of mineral dust. State Parks hired Russell to conduct the study.
Shortly afterwards, APCD Board Member Bruce Gibson attempted to demean Russell, while also arguing that they should not consider the study until it is peer reviewed and published. Russell then listed her credentials, successfully derailing Gibson's attack.
In response to Russell's report, the APCD asked State Parks to pay for a second study.
After more than a decade of alleging dust on the Mesa was 100% mineral dust, the APCD's Scientific Advisory Group ran their own smaller study, which also found a low percentage of mineral dust contained in the particulate matter blowing on the Mesa.
After Russell's study was published, on June 1, APCD Board Member John Peschong made a motion to have Russell present her findings to the board.
Board Members Gibson and Paulding strongly objected. The board then voted 6-5 to have Russell present her findings.
As of March 2023, State Parks has spent $25.2 million on APCD-related measures and services, including $3.1 million this past fiscal year. The expenditures are ongoing.
Russell is scheduled to give her presentation to the APCD Board on Sept. 27 at 9 a.m. at the SLO County Government Center on Monterey Street in SLO.