SLO man arrested for firing shots, driving under the influence
September 18, 2023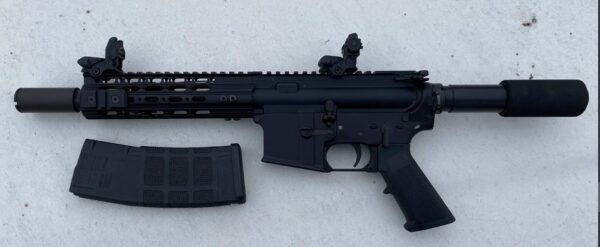 By JOSH FRIEDMAN
San Luis Obispo police officers arrested a man Sunday morning for driving under the influence, discharging a firearm and other weapons offenses. 
At about 9 a.m., a 911 caller reported shots fired in the area of the 1100 block of Montalban Street. Residents reported hearing two gunshots and seeing a white sedan speeding away from the area, according to the SLO Police Department. 
While officers conducted an investigation, the white sedan returned to the area. Officers stopped the driver on Montalban Street. 
Police identified the driver, who was the sole occupant of the vehicle, as 25-year-old San Ernest Samuel Chavez Jr. of SLO. Officers searched Chavez's car and found a non-serialized automatic assault rifle on the front passenger seat.
The ghost gun contained an empty 30-round magazine. Officers also located two spent shell casings inside the vehicle. 
Additionally, investigators determined Chavez was under the influence of alcohol.
Officers arrested Chavez and booked him in SLO County Jail on felony charges of discharge of a firearm in a gross and negligent manner, possession of an assault weapon and carrying a loaded firearm, as well as misdemeanor counts of driving under the influence for the second time in 10 years and driving on a suspended license. 
Detectives found an additional 30-round magazine, live unspent .223 caliber ammunition and spent shell casings during a search of Chavez's bedroom.
Chavez remains in custody with his bail set at $20,000. Investigators are asking anyone who has information about Chavez to call Sgt. Kemp at (805) 783-7765.