Find specials on golf, dining, music lessons in SLO County
October 8, 2023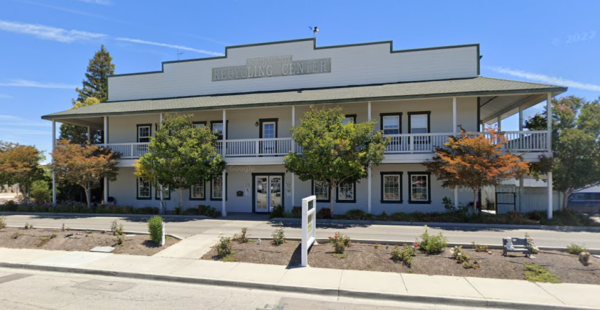 Find great local deals on dining, gold, happy hours, automotive, landscaping and more while supporting San Luis Obispo County businesses and the local economy.
North County Recycling landscape products
Receive a $25 discount on the delivery of landscape materials including mulch, wood chips and compost, and for the delivery of rental roll-off trash bins this week.
Call (805) 434-0043 for landscaping materials and (805) 434-9112 for roll-off bin rentals from Midstate Waste, already at the best prices in the county.
Shin's Sushi restaurant in San Luis Obispo
Dining specials
Shin's offers discounts on select rolls Sunday through Thursday.
Sunday – Shrimp Tempura hand roll $2.99
Monday – Ninja roll $3.49
Tuesday – California roll $2.99
Wednesday – Golden California roll $4.99
Thursday – House special hand roll $2.59
Shin's Sushi, located at 1023 Monterey Street in San Luis Obispo, is open for lunch and dinner.
Call (805) 543-2348 for a to-go order or to make a reservation.
Cafe Roma Restaurant in San Luis Obispo
Happy hour special
Happy hour on Mondays, Wednesdays and Thursdays with half price glasses of wine in the bar from 5 p.m. to 6 p.m. And be sure to check out the menu. In support of the community, Cafe Roma is still offering 2020 prices on most items.
Hunter Ranch Golf Course – Hunter Ranch Bar & Grill
Golf special
Strands of century-old blue oaks and sparkling lakes frame your views, while a challenging and fun layout tests your mettle. Call in and mention this ad and golf for $80, with a cart, on Mondays through Thursdays.
Dining and drink specials
Enjoy great food and drinks along with majestic views of rolling hills, vineyards and the golf course.
Specials available from 4:30 p.m. until 7 p.m.
Monday –  $7 martinis
Tuesday – $5 Beer
Wednesday – $3 Basket of Wings
Thursday – $8 Tri-Tip Sandwich Meal
Friday – $5 All Starters
SeaVenture Restaurant in Pismo Beach
Enjoy ocean front dining at the SeaVenture Restaurant in Pismo Beach and designer cocktails at the bar and free live music in the garden.
October drink specials:
Honey bear – Gin, lemon juice, honey syrup shaken over ice and served in a honey bear jar you take home for $15
Jalapeno hula –  Bacardi mango chili rum, Kula dark rum, coconut puree, and muddled jalapeno with a dash of simple syrup for $13
Coffee cream cake martini – Somus Chai Cream Liquor, Jagermeister Cold Brew Coffee Liquor, and cake vodka served with whipped cream for $11
Winemaker's Dinner: Six-course dinner featuring the best of the Central Coast's land and sea from Executive Chef Eddie Ruiz. Oceanfront dining paired with six exquisite Wolff Vineyard wines. Meet winemaker Jean-Pierre Wolff. Friday Nov. 10 from 5:30 t0 9 p.m. Call Simon or Roman at Sea Venture at (805) 773-3463 for a reservation.
Appetizers: Bacon wrapped dates and oysters Rockerfeller
First course: Local beet salad
Second course: Pork belly and scallops
Third course: Pistachio crusted halibut
Fourth course: Pan seared filet Mignon
Dessert: Chocolate lava cake
Gardens of Avila Restaurant at Sycamore Mineral Springs Resort
Lodging special
Locals living in San Luis Obispo and Santa Barbara counties get 30% off one-bedroom suites while also receiving a $20 resort credit on Sundays through Thursdays.
Dining special
Enjoy dining in the Gardens of Avila lounge with a cozy natural stone fireplace or on their heated Old Stone Patio. During October, enjoy their three-course menu for $65 per person, no substitutions.
First course, choice of one appetizer
French onion soup – Slow-cooked five assorted onions in beef stock for 24 hours. Topped with house croutons and melted gruyere cheese.
Roasted vegetables with goat cheese – Zucchini, squash, eggplant, red bell pepper, and red onion grilled and topped with balsamic reduction and accompanied by garlic crostini. Served chilled.
Second course, choice of one entree

Flank steak – Grilled and served with roasted portabellas and cabernet onions. Served with garlic parmesan mashed potatoes and seasonal vegetables.
Grilled Halibut – Grilled and served with roasted portabellas and cabernet onions. Served with garlic parmesan mashed potatoes and seasonal vegetables.
Third course, choice of one dessert
Pumpkin cheesecake – Topped with house caramel sauce and fresh whipped cream.
Apple blackberry cobbler – Served ala mode with French vanilla ice cream.
Call (805) 595-7365 for a to-go order or to make a reservation.
Patrick Pearson Music in SLO
Patrick Pearson Music is offering four lessons for the price of three, a $50 discount. Patrick Pearson teaches guitar, ukulele, piano, drums, bass, mandolin and banjo to students of all ages. He is a professional working musician with 25 years of teaching experience. Call (805) 748-4366 for more information.
Ace Auto Care in Atascadero
Receive a free oil change with the purchase of another oil change at Ace Auto Care in Atascadero, with the mention of CalCoastNews. Call Ace Auto Care at (805) 462-2223 for more information.
Spencer's Fresh Markets
Make a feast with salmon fillets at $7.99 a pound, carving pumpkins at $5.99 each, and white corn at 79 cents each. Click here for additional weekly specials.