Officers charge teen with starting Lizzie Fire in SLO
October 31, 2023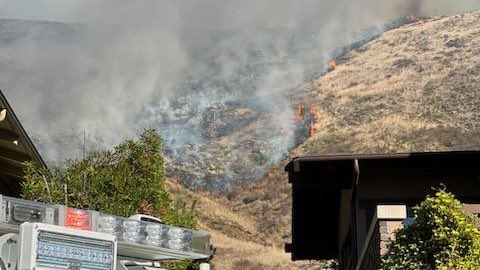 By JOSH FRIEDMAN
Police officers arrested a 15-year-old San Luis Obispo resident for starting the Lizzie Fire that burned 100 acres near SLO High School on Monday.
High school officials used surveillance footage of the campus perimeter to identify two juveniles who were seen leaving the area where the fire is believed to have started, according to the San Luis Obispo Police Department. Police conducted an investigation and arrested one of the juveniles at about 3 p.m. Tuesday. Officers booked the teen in SLO County Juvenile Hall on a felony charge of unlawfully causing fire that causes great bodily injury.
Shortly before 3 p.m. Monday, a caller reported a fire at the FFA farm behind the high school. The fire quickly spread in dry grasses in the area.
One firefighter suffered a laceration while battling the blaze.
As of Tuesday evening, the size of the Lizzie Fire remains at about 100 acres. The blaze is 80% contained.
Officers continue to investigate the alleged arson. Investigators ask that anyone who has information about the arson case call Detective Jeff Koznek at (805) 594-8005.