Paso Robles man pleads guilty to raping children
October 4, 2023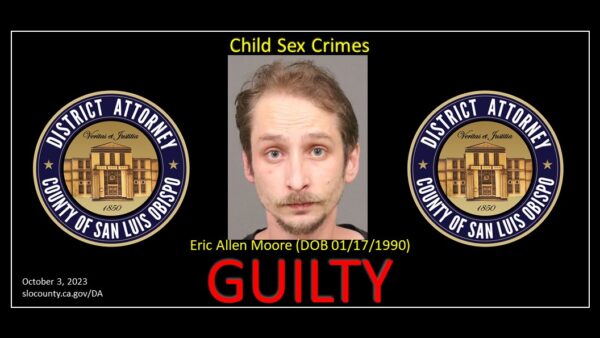 By KAREN VELIE
A Paso Robles man is facing 50 years to life in prison after he pleaded guilty to raping two children under 10 years of age.
Originally charged with 13 counts that included sexual intercourse or sodomy with a child, 33-year-old Eric Allen Moore pleaded guilty to two counts of having sex with a child. Moore held a position of trust with his two victims.
From 2017 through 2022, Moore assaulted his victims.
The Paso Robles Police Department investigated the victim's accusations while the San Luis Obispo County District Attorney's Office prosecuted Moore.
"While it is tragic to see children so terribly victimized by someone they are supposed to trust most, I am amazed at the resilience and courage shown by these two young survivors," said Deputy District Attorney Kristin Barnard. "I commend both for having the strength to speak up and not stay silent."
Moore sentencing hearing is scheduled for Nov. 28.