SLO police catch man who followed tipsy woman home
May 15, 2015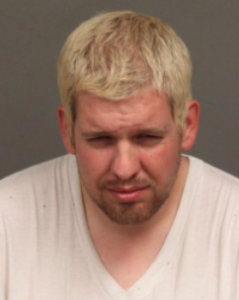 San Luis Obispo police have arrested a 29-year-old Santa Maria man, who they say walked an intoxicated woman into her home last month.
Around 2:30 a.m. on April 18, Derek Ryan Roden was waiting outside a home in the 900 block of Peach Street in San Luis Obispo when a taxi driver dropped of the intoxicated woman. Roden then walked with the victim into her house, according to police.
After Roden shut the front door, the woman screamed. The taxi driver, who waited to make sure she got home safe, then ran to the door, pounded on it briefly and came face to face with Roden.
Roden fled the area, and about an hour later, he appeared inside a home in the 100 block of Verde Drive. A resident of the Verde home spotted him, and Roden drove off in a light colored sedan.
Both witnesses said the suspect was a white male wearing a hat with a "CHP" logo who acted mute.
Based on descriptions of the burglar's appearance, behavior and characteristics, an alert San Luis Obispo officer recognized the suspect as Roden, according a police department news release. Police have had prior contacts with Roden.
A warrant was issued for Roden's arrest, and on Wednesday morning, a Santa Barbara County Sheriff's deputy located him in the city of Orcutt. The deputy arrested him at 175 Broadway around 5:30 a.m.
San Luis Obispo detectives then drove to Orcutt and took custody of Roden. When questioned by detectives, Roden was uncooperative and appeared to be unable or unwilling to communicate with them.
Roden claimed a medical issue and was transported to a local hospital. After doctors cleared Roden, police booked him in San Luis Obispo County Jail.
Roden remains in jail with his bail set at $200,000. He is charged with two counts of burglary.
Police are asking anyone in the know to report additional information about Roden's suspicious or illegal activities.