Spanish TV station vandalized in Santa Maria
June 15, 2015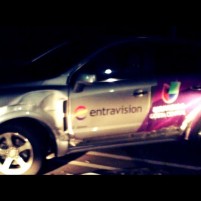 An attack on Spanish-language television station KPMR has left the Santa Maria Univision affiliate with broken windows and damaged vehicles and satellite dishes. [KEYT]
The vandalism occurred overnight, and KPMR employees discovered it Monday morning. The vandal or vandals attempted to tear down satellite dishes.
They succeeded in heavily damaging station news vehicles, including an engineering truck. A Twitter account associated with the name Pablo Quiroz Jr. posted photos of the vandalism, including damaged vehicles, electronics and interior offices.
Reports indicate that police may have taken at least one suspect into custody.