SLO police free 15-year-old girl from forced prostitution
July 30, 2015
San Luis Obispo police rescued a 15-year-old girl from forced labor as a prostitute and arrested three suspects on human trafficking charges Tuesday.
Both the girl and the primary suspect, a 16-year-old male, are from Manteca, a Central Valley city. Detectives believe the male juvenile, whom they are not identifying, forced the girl into acts of prostitution in cities north of San Luis Obispo, as well as throughout SLO County, according to a SLOPD news release.
The other two suspects, Brianna Day Morales and Fabio Bettencourt Silveira, are both 20-year-old residents of Chico. Investigators determined Morales and Silveira were involved in the conspiracy to force the victim into prostitution.
Police officers found the girl in a hotel room in the 1800 block of Monterey Street around 1:30 p.m. They searched the hotel after receiving a call from the Manteca Police Department reporting she was being held there against her will.
When officers found the victim, she was alone and terrified. She was then transported to the police department and given attention from qualified professionals.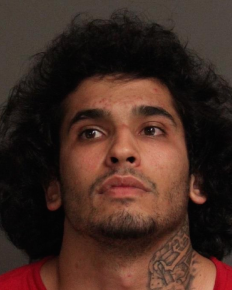 Later, the teenage girl was reunited with her family.
The victim had been in SLO County since Saturday, according to the press release. She had been traveling with the 16-year-old male.
Around 3:20 p.m. Tuesday, Morales was spotted as a passenger in a vehicle traveling in the 200 block Santa Rosa Street. Officers stopped the vehicle and took her into custody without incident.
Around 4:05 p.m., Silveira and the 16-year-old suspect returned to the hotel on Monterey Street. Officers took them into custody
The teenage boy and Morales are both charged with human trafficking, abduction for purposes of prostitution, false imprisonment and criminal conspiracy. Morales also faces a charge of child endangerment.
Silveira is charged with human trafficking and criminal conspiracy.
Officers booked the 16-year-old in the juvenile services center. Morales and Silveira were booked in San Luis Obsipo County Jail.
Silveira remains in jail with bail set at $70,000.
Morales's bail was set at $100,000. As of Thursday morning, she is no longer in custody, according to the jail website.