San Luis Jazz Band leader pleads guilty to extortion
November 19, 2015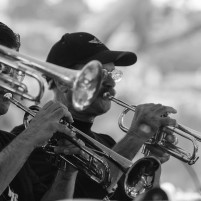 BY KAREN VELIE
The leader of the San Luis Jazz Band plead guilty last month to three counts of extortion against his wife. Mitch Latting, 66, is scheduled to be sentenced by San Luis Obispo County Superior Court Judge Jacquelyn Duffy on Dec. 8.
Latting's downhill spiral begin in late 2014 when his wife asked for a divorce after she discovered Latting's had been posting solicitations for sex with young men on Craigslist, according to court documents. Craigslist communications include requests for photos of male genitalia and sexual banter, according to court documents.
By December, the marriage had imploded, according to court records.
Latting then began making written threats to harm his wife Jolie Lucas unless she signed a quit claim deed assigning half of their home to Latting, according to court documents.
On Feb. 2, Latting was charged with three felony counts of writing threatening letters with the intent to extort. He was arrested and released on $25,000 bail. The charges were later reduced to misdemeanors.
The court then granted Lucas a criminal protection order for domestic violence against Latting.
In criminal court, Latting faces a maximum statutory penalty of three years in jail and a $3,000 fine, according to the California Penal Code.
In divorce court, Commissioner Patrick Perry awarded Latting the house and ordered Lucas to pay Latting $650 a month in spousal support.