Wind knocks over Paso Robles mobile home
January 6, 2016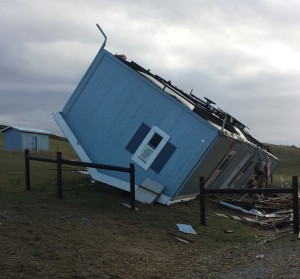 High winds have uprooted and turned upside down a mobile home in rural Paso Robles, according to Cal Fire.
A person was inside the home at the time it tipped over, but Cal Fire did not receive any reports of injuries. The home is located in the 1900 block of Hidden Acre Road. [KSBY]
The storm sweeping through San Luis Obispo County has also caused thousands of residents to lose power. More than 3,800 customers lost power in Pismo Beach Wednesday morning.
Several thousand customers also lost power in San Luis Obispo. More than 3,300 customers in San Luis Obispo remained without power around 8 a.m.
There are also smaller outages in Atascadero, Avila Beach, Cayucos, Los Osos, Oceano and Paso Robles.