Tribune printing press moving again
May 27, 2016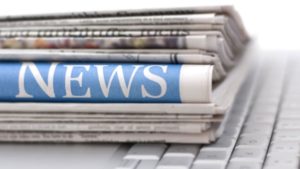 Fourteen months after McClatchy began printing the San Luis Obispo Tribune in Fresno, the publishing company will again move the newspaper's printing operations to a new press. The move is a result of McClatchy's decision to start printing the Fresno Bee in Sacramento.
McClatchy officials say The Tribune will be printed in Fresno until the end of July. In the meanwhile, they plan to find a printing press closer to San Luis Obispo.
Last year, Tom Cullinan, the president and publisher of the Fresno Bee, said that moving The Tribune's printing operations to Fresno would allow the paper to be printed on environmentally friendly presses that use water-based ink.
In a Fresno Bee article published Wednesday, Cullinan said the Fresno press has aging and costly printing-plate technology, which makes it one the most expensive printing operations in the country. Cullinan cited that as one of the key reasons for moving the Fresno Bee's printing operations.
The Fresno Bee will be printed at the Sacramento Bee press starting Aug. 1. The move will result in the elimination of 27 full-time and 57 part-time positions in Fresno.
McClatchy, which owns the Tribune, Fresno Bee and Sacramento Bee, operated at a loss of $300 million in 2015. The publishing company concluded the year with approximately $397.3 million in outstanding debt.
As of Dec. 2015, McClatchy's pension obligations exceeded assets by $464.8 million. In order to keep up on its pension payments, McClatchy transferred ownership of a number of its real estate holdings to its pension fund.