Hillary Clinton holds gathering in Santa Barbara
June 6, 2016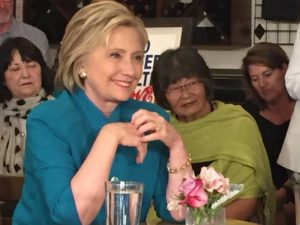 Democratic presidential frontrunner Hillary Clinton made a campaign stop in Santa Barbara on Saturday. Unlike her challenger Bernie Sanders, Clinton held a private gathering and drew a crowd of protesters outside.
Earlier Saturday, Clinton held a public rally at a high school in Ventura. Then she met with mostly female supporters at the restaurant Jill's Place in Santa Barbara.
Outgoing Congresswoman Lois Capps introduced Clinton and sat next to her during the event. Santa Barbara Mayor Helene Schneider, who is running for Capps' seat, also attended the event. Other attendees included Santa Barbara County District Attorney Joyce Dudley and State Senator Hannah-Beth Jackson.
During the gathering, Clinton spoke about immigration reform, making college more affordable and what it is like to be a grandmother. Clinton also said her presumptive Republican challenger Donald Trump plans to seize people and put them in camps and load them onto buses and trains.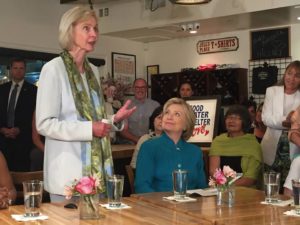 Protesters stood outside the event holding signs against Clinton and in favor of Sanders. Authorities cordoned off nearby streets during the event. Still, the protesters' chants could be heard from within the restaurant.
On the previous Saturday, Sanders spoke at public rallies in Santa Barbara and Santa Maria. The Santa Maria event drew more than 7,000 people.
Clinton currently leads Sanders by nearly 800 delegates, when factoring in super delegates. Including super delegates, Clinton leads Sanders 2,357 to 1,566. A Democratic presidential candidate needs a total of 2,383 delegates to clinch the party's nomination.
Heading into Tuesday's primary, polls indicate Clinton and Sanders are neck and neck in California.