California governor denies parole to youngest Manson follower
July 25, 2016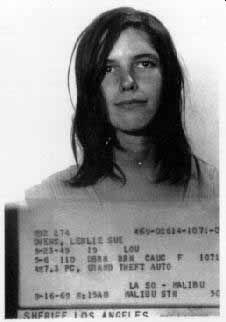 California Gov. Jerry Brown has denied parole to a female follower of Charles Manson who was 19 years old at the time of the 1969 killings of Leno and Rosemary LaBianca. Leslie Van Houten previously admitted she stabbed Rosemary LaBianca in the back at least 14 times. [LA Times]
Van Houten was the youngest member of Manson's "family." She was reportedly under the influence of LSD on the night of the LaBianca killings.
That night, a group stormed into the LaBiancas' home in Los Feliz. Van Houten and another women held down Rosemary LaBianca while Charles "Tex" Watson stabbed Leno LaBianca. Watson then stabbed Rosemary LaBianca with a bayonet and handed the knife to Van Houten, who proceeding in stabbing the woman at least another 14 times. Following the killings, the victims' blood was used to scrawl messages on the walls.
Since being convicted of first-degree murder and being sentenced to life in prison, Van Houten had been denied parole 19 times. But in April, a two-member state review board granted Van Houten parole.
Brown overturned the decision on Friday. The governor released a statement saying Van Houten would pose an unreasonable danger to society if released from prison. The statement also said it remains unclear how Van Houten transformed herself from a smart, driven young woman to a member of a notorious cult and a participant in gory murder of innocent victims.
Van Houten's attorney, Richard Pfeiffer, said the transformation can be explained. Van Houten's parents divorced, then she became pregnant and her mother forced her to have an illegal abortion. The fetus was buried in the family's backyard, and with that, her drug abuse escalated, Pfeiffer said.
While in prison, Van Houten has earned bachelor's and master's degrees and has run self-help groups for incarcerated women. She has never been disciplined for serious misconduct while incarcerated.
Pfeiffer said he is preparing a challenge to Brown's decision, and Van Houten is prepared for a future parole hearing.