Morro Bay wind farm may be operating by 2025
July 18, 2016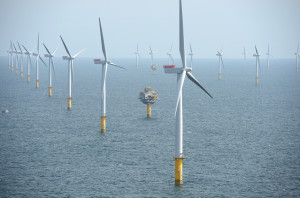 CORRECTION: The average wind speeds in the area of the proposed wind farm were misstated and are 19 mph.
The company planning to construct a wind farm off the coast of Morro Bay aims to have the project operating by 2025, even though the technology it is using remains in an exploratory phase. The proposed Central Coast wind farm is one of dozens of pilot projects worldwide that aim to use floating turbines, rather than fixed turbines. [Energy Digital]
There are currently more than 70 offshore wind farms in the world, but no floating wind farms are operating at utility scale. Floating turbines, which can be placed further offshore than fixed turbines, have the potential to harness energy from stronger winds.
Trident Winds, a Seattle-based company, plans to place 100 floating turbines 33 miles off the coast of Morro Bay. The turbines will harness energy from winds that have an average speed of 8.5 miles per hour.
The Morro Bay wind farm will consist of turbines mounted on floating structures. Each turbine will have a nameplate capacity of 6MW or greater. Trident aims for the farm to have a total nameplate capacity of 765MW, with the potential of later increasing the amount of energy produced.
At a cost of $3.5 million, the U.S. Energy Department is funding the development of the project's technology through its Advanced Research Projects Agency energy program. A team of four universities and two national laboratories has three years to build and test a scaled prototype, which is to have two blades instead of the standard three blades.
Many of the existing offshore wind farms are situated off European coasts. The first offshore U.S. wind farm is expected to come online later this year. It will be operating off the coast of Rhode Island. The Morro Bay project would be California's first wind farm.