Santa Barbara deputies kill manhunt suspect
February 14, 2017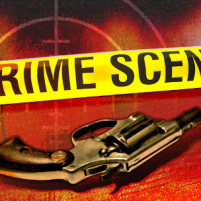 Santa Barbara County Sheriff's shot and killed a 26-year-old man who "advanced" on them with a knife. The shooting culminated a more than three-hour manhunt in which Bryan Carreno was reportedly hallucinating and running in and out of houses.
Sheriff's officials say five deputies were involved in the shooting. Those deputies have been placed on administrative leave.
At about 6:30 p.m., a family member of Carreno at a home in the La Cumbre area called 911 and reported Carreno was inside the garage and was hallucinating, acting out and possibly under the influence of drugs.
Carreno left the house, and the sheriff's office received multiple calls from residents who said he entered their homes and backyards.
Deputies spent several hours tracking Carreno with help from the sheriff's K-9 unit and a county helicopter. At one point, he was allegedly on the roof of a house.
Someone in the area found a large kitchen knife in the ground near a location Carreno was spotted. Sheriffs officials also obtained information that the suspect was potentially armed with a hatchet.
Around 7:45 p.m., officials issued an emergency notification to neighbors about a possibly armed suspect in the area.
At about 8:40 p.m., a resident in the 600 block of Russell Way called 911 saying the suspect had entered their home and rifled through the kitchen drawer. About 10 minutes later, the residents of the home located deputies and told them the suspect was possibly still inside their house.
Deputies entered the home and found Carreno inside armed with a large kitchen knife. The deputies then stepped back outside and issued repeated commands to drop the knife.
But, Carreno exited the house and advance on the deputies with a knife in his hand, a sheriff's press release states. Carreno was then shot multiple times.
Deputies performed first aid and called for medical personnel. But, Carreno succumbed to his injuries, and responders pronounced him dead at the scene.
No one else suffered injuries during the incident.
Carreno was known to law enforcement, and he had been arrested previously on charges of domestic violence, assault with a deadly weapon and alcohol related violations, according to the sheriff's office.
The county coroner's office is conducting a death investigation, which will include toxicology and lab tests. A sheriff's administrative investigation is currently underway to determine whether deputies followed department policies and procedures.
Likewise, the sheriff's Criminal Investigations Division is investigating the case. When its work is complete, the Santa Barbara County District Attorney's Office will conduct an independent review.