SLO resident loses $20,000 after thief uses stolen wallet to cash out
July 7, 2017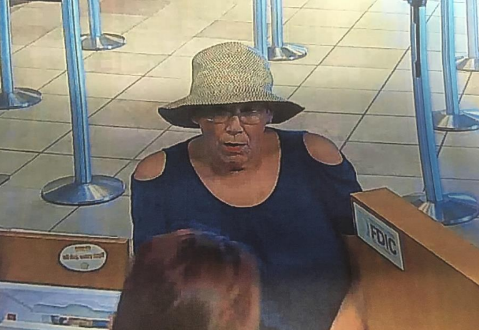 A day after losing a wallet, a San Luis Obispo resident lost a combined $20,000 from multiple bank accounts, according to SLOPD. Police are now searching for a suspected identity thief who made the cash withdrawals.
On June 21, a San Luis Obispo resident's wallet was stolen. The wallet contained several credit and debit cards, as well as identification cards and other personal information.
The following day, an unknown elderly suspect used the victim's personal and financial information to make $10,000 withdrawals from two different banks in San Luis Obispo, police said.
Police describe the suspect as a possibly female white adult who is about 5 foot 3 inches tall and 140 pounds. The suspect is believed to be about 65 years old.
Investigators request that anyone who can help identify the woman pictured in the surveillance photo call the police department at (805) 781-7312 or Crime Stoppers at (805) 549-STOP.