Lompoc kidnapper allegedly forced victim to marry him in Vegas
September 7, 2017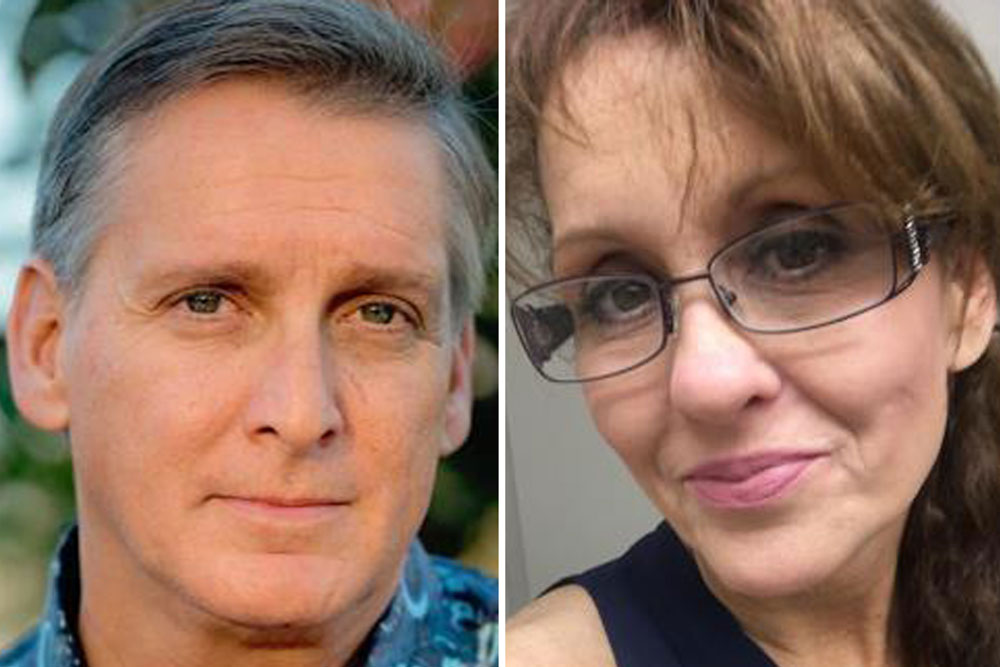 Surveillance footage shows that during this week's kidnapping escapade Joseph Hetzel forced Virginia Paris to marry him inside a Las Vegas wedding chapel. [KCOY]
Paris's daughter, Melissa Villabla, said Hetzel forced Paris to marry him in exchange for allowing her to call her children on Monday night. Authorities have since annulled the marriage, Villabla said.
While holding her hostage, Hetzel, 52, brought Paris, 55, into the Little Neon Chapel in Las Vegas. A worker at the wedding chapel said they entered like regular customers and asked what the cheapest package is. The cheapest package was $45.
Footage from surveillance cameras at the wedding chapel shows Hetzel grabbing Paris and kissing her on multiple occasions. At one point, Paris turns away from the desk where their marriage license was being signed and walks away.
"She was like, "no I don't want to do this,' " the wedding chapel worker said. "And he was like, no, don't do this to me, and he grabbed all the papers."
Villabla said Hetzel and Paris were never formally boyfriend and girlfriend. They only casually dated for two or three months, but Hetzel became obsessed and showed up at her work multiple times, Villabla said.
Hetzel, who is a convicted felon, took Paris hostage on Sept. 1. Hetzel followed Paris in her vehicle after she left her work in Solvang, prompting the Lompoc woman to pull over and engage him a verbal dispute. The alleged kidnapper then forced his way into Paris's vehicle and took over driving the car, according to the Santa Barbara County Sheriff's Office.
On the morning of Sept. 3, Hetzel and Paris popped up at a Starbucks in Goodyear, Arizona, where the woman asked a customer for help. Hetzel then dragged her back into the vehicle and fled at a high rate of speed, leaving behind a witness who gave chase but halted the pursuit when the Lompoc man ran a red light.
The following morning, Hetzel and Paris were checking out of a Grand Canyon area hotel when the woman told a clerk that she was a kidnapping victim. Paris asked the clerk to call law enforcement and say that they may be on their way to Las Vegas.
On the evening of Sept. 4, after arriving in the Las Vegas area, Hetzel allowed Paris to call her children. Paris informed relatives she was in the Henderson area.
Meanwhile, Paris managed to gain Hetzel's confidence that she would not try to escape and they could rent a room for the night. Hetzel let Paris enter the Railroad Pass Hotel and Casino while he was parking the car.
Paris immediately notified hotel staff that she was a kidnapping victim. Casino security then escorted her to a safe location.
Surveillance footage of the incident shows Hetzel watching from outside the entrance to the hotel as security escorted Paris away. Hetzel then fled.
Several hours later, investigators found Paris's car in a residential area of Mesquite, Nevada. During the day on Sept. 5, investigators located a vehicle that was stolen from a parking lot in Mesquite and eventually traced Hetzel to Dotty's Lounge, a gaming business, located in the 100 block of E. Bruner in Las Vegas.
Hetzel was arrested at the Las Vegas gaming lounge. He is now in custody in Henderson with his bail set at $1 million. The Santa Barbara County Sheriff's Office is expected to seek his extradition.