SLO thief returns a second time to steal military truck, gets caught
October 26, 2018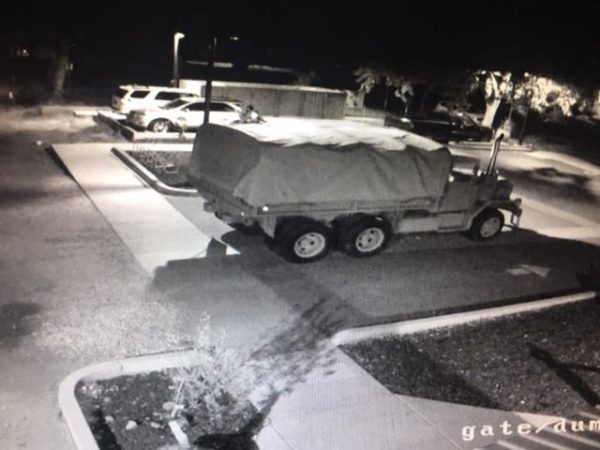 A thief who stole a 1970 military troop carrier in San Luis Obispo and then returned it got caught in the act as he tried to steal the large truck again Thursday morning. [KSBY]
The truck, owned by Central Coast Brewing owner George Peterson, was parked in the craft brewery's lot at 6 Higuera Street. At about 7:45 p.m. Wednesday, the thief drove off with the vehicle.
Peterson said surveillance footage revealed the thief got the truck to start, got the lights to work and did a full safety check before driving away. The old military vehicle has a unique starting sequence, which makes it difficult to operate.
The truck is slow and has terrible gas mileage — so bad that the thief would have to get gas a couple times just to reach Santa Maria, Peterson said. Police searched for the vehicle Wednesday night but failed to track down the truck or the thief.
At about 2 a.m. Thursday, an officer patrolling the area noticed the military vehicle had been returned to the Central Coast Brewing parking lot. The vehicle was undamaged.
Then at about 9:30 a.m., Peterson was watching footage of the theft at Central Coast Brewing when he heard the truck start. Peterson came outside and confronted the thief, who did not put up a fight when the truck owner told him to stop and called the police.
San Luis Obispo police say Peterson did not want to press charges against the man. Peterson believes the man needs to see a doctor, rather than a jail cell, and that police should connect him with mental health resources.
Police say they have had previous run-ins with the suspect, but not for at least 10 years.
The truck is not equipped with locks or a key ignition. It has a hidden push start, Peterson said. The military vehicle owner said he will install security features on his truck that will stop it from being stolen again.