South SLO County businessman arrested for buying stolen catalytic converters
February 24, 2023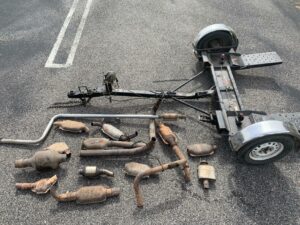 By JOSH FRIEDMAN
Officers arrested a South County businessman Tuesday morning for buying stolen catalytic converters.
The San Luis Obispo County Auto Theft Task Force served search warrants at the Santa Maria residence of Samuel Lopez Lua Sr., 62, and at Lua's business, Sammy's Auto Dismantling, which is located on the Nipomo Mesa. Investigators found a combined total of 14 catalytic converters at Lua's home and dismantling yard, according to the CHP. Officers also found a U-Haul trailer at Sammy's Auto Dismantling that is suspected of having been stolen. 
Authorities arrested Lua near W. Harding Street and N. Pine Avenue in Santa Maria for purchasing stolen catalytic converters. Officers booked Lua in jail and later released him from custody on $80,000 bail.
The Auto Theft Task Force conducted the investigation in coordination with the San Luis Obispo County sheriff's and district attorney's offices, as well as the California Department of Motor Vehicles and SLO County Code Enforcement.