Thieves steal Social Security card, license plate in SLO
February 9, 2023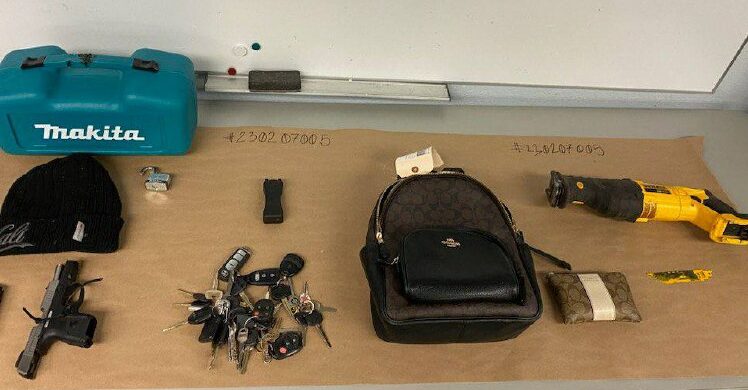 By JOSH FRIEDMAN
Police officers arrested a man and woman from Santa Maria Tuesday morning who allegedly stole a Social Security card, license plate and catalytic converter from a single neighborhood in San Luis Obispo.
Shortly before 5 a.m., a 911 caller reported a burglars breaking into a vehicle in the 1500 block of El Tigre Court. Witnesses said the suspects fled in a dark-colored, older Toyota Corolla, according to police. 
Shortly afterwards, a police officer noticed a vehicle matching the description leaving the area. Officers then found and stopped the vehicle.
Officers discovered the suspects had stolen the license plate on the Corolla from another vehicle in the same area where the initial burglary occurred.
Officers searched the suspects' vehicle and found drug paraphernalia, a stun gun, shaved vehicle ignition keys, controlled substances, miscellaneous burglary tools and a loaded handgun. Officers also located a stolen Social Security card and a catalytic converter that had recently been cut from another vehicle. 
Investigators ultimately determined the suspects stole the license plate, Social Security card and catalytic converter from the El Tigre Court area. Police located the owners of each of the stolen items and returned them. 
Officers arrested Andrea Reyes, 39, on charges of felon in possession of a stun gun, possession of stolen property, possession of burglary tools, possession of a controlled substance, possession of drug paraphernalia, driving with a suspended license and identify theft with a prior conviction. Police arrested Dustin Kinsey, 44, on charges of felon in possession of a firearm, felon in possession of ammunition, identity theft with a prior conviction and possession of drug paraphernalia.
Authorities booked Reyes and Kinsey in San Luis Obispo County Jail, where they both currently remain in custody. Reyes's bail is set at $20,000, while Kinsey's is set at $50,000.