Drunk prison guard attacks strangers in SLO, video
April 5, 2023
By KAREN VELIE
A former prison guard unleashed a violent attack on two strangers in downtown San Luis Obispo on Friday afternoon while so drunk she was unable to button her pants.
Celebrating her 34 birthday, Jacquelyn Stuntebeck started her day by posting pictures in her Instagram story from her hotel room of a can of White Claw Hard Seltzer and a bottle of Fireball Cinnamon Whiskey. By 6:40 p.m., she was sitting outside a restaurant on Marsh Street unable to stand.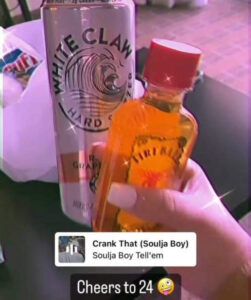 Noticing firefighters attempting to get Stuntebeck and her husband to go back to their hotel room, SLO resident Jeff Specht began filming what he refereed to as the Marsh Street Melodrama.
Without saying a word, Stuntebeck charged at Specht and punched him between the eyes. A security guard ordered the intoxicated woman to leave the area, and firefighters attempted to corral Stuntebeck.
"Babe, you want to see a shot," Stuntebeck asked her husband before again charging at Specht and punching him repeatedly, this time drawing blood.
A security guard attempted to stop Stuntebeck, who punched the guard repeatedly. The guard handcuffed Stuntebeck and waited for officers to arrive.
Video of assaults, full video at end of article
Stuntebeck then informed first responders she worked for a federal prison in Taft, and that "this shit is not allowed." She appeared to be seeking special treatment by claiming her and her husband were prison guards.
The federal government closed the Taft Correctional Institution more than three years ago.
Police officers arrived and arrested Stuntebeck on charges of battery and drunk in public before booking her in San Luis Obisbo County Jail.
The next day, Specht went to the emergency room where he was diagnosed with a concussion while Stuntebeck posted photos of her and her husband wine tasting in Edna Valley.
Editor's Note: CalCoastNews posted several shorts from the incident on the CalCoastNews YouTube channel. Please subscribe to our YouTube channel and send your videos of incidents on the Central Coast to VelieSLO@gmail.com.