Man and woman caught with drugs and guns in Goleta
July 7, 2023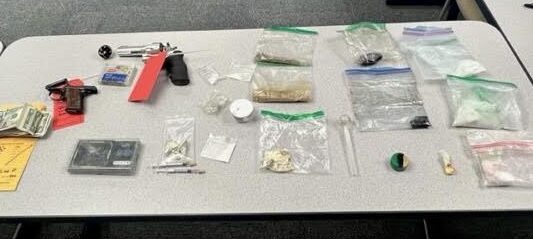 By JOSH FRIEDMAN
A traffic stop in Goleta early Thursday morning led to the arrest of a man and woman on numerous drug and weapon charges.
Shortly after 1:30 a.m., a Goleta patrol deputy attempted to stop a vehicle for a headlamp violation in the area of N. Glen Annie and Cathedral Oaks roads, according to the Santa Barbara County Sheriff's Office. Initially, the driver did not pull over. Eventually, the driver stopped on San Milano Drive. 
While deputies spoke with the driver, 36-year-old Benicio Pereda of Goleta, his passenger, 36-year-old Marisol Loza of Goleta, attempted to flee toward a residence. However, deputies quickly apprehended her.
A probation search of the vehicle resulted in deputies finding ammunition, heroin, cocaine, methamphetamine, psilocybin, drug paraphernalia and evidence of narcotics sales. A sheriff's K-9 searched the area where Loma fled and found a loaded Ruger .357 revolver and a loaded Beretta .22 semi-automatic handgun.
Deputies arrested both suspects and booked them in Santa Barbara County Jail on charges of felon in possession of ammunition, possession of a controlled substance for sales, transportation of a controlled substance, felon in possession of a firearm, felon in possession of a loaded firearm and possession of a controlled substance while armed with a loaded firearm. 
Additionally, deputies booked Pereda on a probation violation and a misdemeanor charge of failure to yield to a traffic stop. Loza was also booked on misdemeanor charges of obstruction and concealing evidence. 
Loza's bail is set at $50,000. Pereda is being held without bail.