Youngest Manson follower released from California prison
July 12, 2023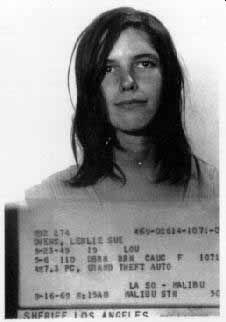 By JOSH FRIEDMAN
California corrections officials on Tuesday released a female follower of Charles Manson who was 19 years old at the time of the 1969 killings of Leno and Rosemary LaBianca.
Leslie Van Houten previously admitted she stabbed Rosemary LaBianca in the back at least 14 times. Van Houten was the youngest member of Manson's "family." She was reportedly under the influence of LSD on the night of the LaBianca killings.
That night, a group stormed into the LaBiancas' home in Los Feliz. Van Houten and another woman held down Rosemary LaBianca while Charles "Tex" Watson stabbed Leno LaBianca. Watson then stabbed Rosemary LaBianca with a bayonet and handed the knife to Van Houten, who proceeding in stabbing the woman at least another 14 times.
Following the killings, the victims' blood was used to scrawl messages on the walls.
Van Houten, who spent 53 years behind bars, moved on Tuesday to a transitional living facility. Authorities released her to parole supervision. She will have a maximum three-year parole term. After one year, she will have a parole discharge review. [ABC News]
Previously, governors Jerry Brown and Gavin Newsom reversed Van Houten's parole. But last week, Newsom said he would not ask the California Supreme Court to block the Manson follower's parole.
"Governor Newsom reversed Ms. Van Houten's parole grant three times since taking office and defended against her challenges of those decisions in court," Newsom's communications director Erin Mellon said in a statement. "The Governor is disappointed by the Court of Appeal's decision to release Ms. Van Houten but will not pursue further action as efforts to further appeal are unlikely to succeed. The California Supreme Court accepts appeals in very few cases, and generally does not select cases based on this type of fact-specific determination."
Van Houten's attorney previously said his client's parents divorced, then she became pregnant and her mother forced her to have an illegal abortion. The fetus was buried in the family's backyard, and with that, her drug abuse escalated.
While in prison, Van Houten earned bachelor's and master's degrees and ran self-help groups for incarcerated women.