San Luis Obispo gym owner's excuse falls flat, victim says
October 25, 2023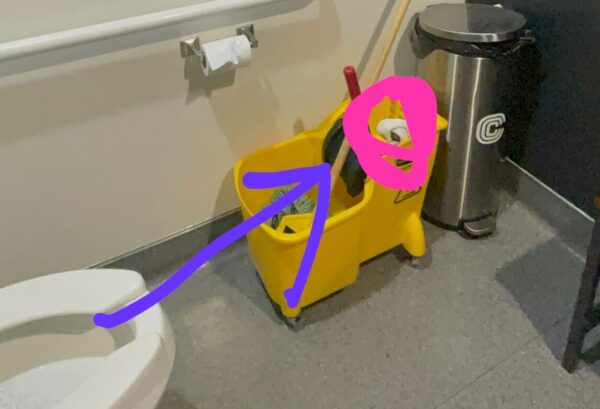 By KAREN VELIE
The owner of a gym in San Luis Obispo where a spy camera was recently discovered hidden in a bathroom claims he was attempting to film a man he suspected of stealing from him, an explanation the woman who found the camera is not buying.
A long-time member of the gym told CalCoastNews that 35-year-old Cole Corrigan had initially lied about the camera because of fears his criminal past would be exposed. He now wants the public to know the reason he put the camera in front of a toilet located in a restroom at CCC Fitness, the customer said.
Corrigan claims he was trying to film a thief who had stolen personal toiletries out of a small vanity in the restroom. He now says he placed the GoPro camera in the bucket in order to film the vanity.
On Aug. 29, a 22-year-old pregnant woman found the GoPro camera concealed in a white towel placed in a mop bucket in a restroom at CCC Fitness. Even though Corrigan asked Maria and Zach Lerno not to call law enforcement, they did.
An officer then went to the gym, took the camera and opened an investigation. At the time, Corrigan denied knowledge of the camera.
"I asked if he put the camera there just to talk to me," Maria Lerno said. "He told me he didn't even know how to work a GoPro camera. I don't believe anything he is saying."
Corrigan told the SLO Tribune his camera was directed at the vanity. Maria Lerno does not agree, she says the camera was in front of and aimed directly at the toilet.
The SLO County District Attorney's Office has charged Corrigan with one count of using an instrument to view an area of privacy. During a search of his Morro Bay home, officers found a firearm, ammunition and testosterone. Prosecutors have also charged Corrigan with being a felon in possession of a firearm and testosterone possession.
Since CalCoastNew first broke the news of the hidden camera, multiple women have disclosed stories of Corrigan talking inappropriately about their sex lives or their bodies at his all women's gym. One local woman described how Corrigan had stalked her for two years.
In 2006 and 2007, the Los Osos woman would regularly see a face peering in her window at night, she told a CalCoastNews reporter. CalCoastNews is not naming the now 35-year-old victim.
In 2007, the victim and her brother chased Corrigan as he ran from their home. Deputies arrested Corrigan and were able to obtain an emergency restraining order for the victim the next morning.
About a week later, a naked Corrigan, who appeared to be under the influence, was spotted about five blocks from the woman's home, she said. Corrigan was injured when he fought off seven deputies who pepper sprayed, shot beanbags, used batons and tasered him. He was later charged with felony resisting arrest.
During the past 20 years, prosecutors charged Corrigan in five misdemeanor and two felony cases which include transporting a controlled substance, loitering on someone's property to commit a crime, DUI and public intoxication.