SLO teen allegedly tags at least 25 locations with graffiti
October 20, 2023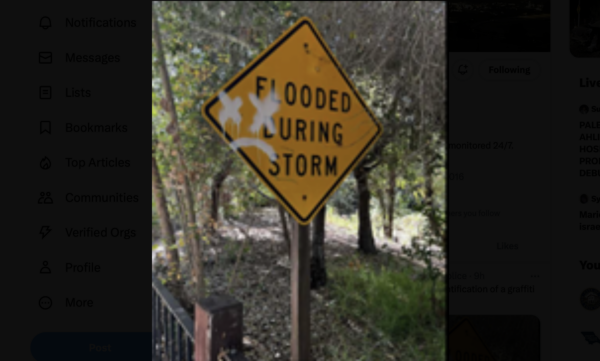 By JOSH FRIEDMAN
A 19-year-old man allegedly spray painted graffiti at more than two dozen locations in the city of San Luis Obispo on Monday.
Most, if not all, of the graffiti consists of the same tag. A photo of a tagged street sign circulated by the San Luis Obispo Police Department indicates the graffiti consists of spray painted sad faces with Xs for eyes. 
On Monday morning, a person called the police department and reported a man with a can of white spray paint who was walking on a path adjacent to the railroad tracks near Poinsettia Street in the Arbors neighborhood. Shortly afterwards, there was fresh graffiti on the path, as well as in a nearby tunnel connecting to the Spanish Oaks neighborhood.
Officers searched the area but did not find the suspect. However, the officers found 12 locations with the same graffiti. The graffiti had been painted on street signs, in the tunnel and on concrete walls, police said.
That afternoon, a patrol officer noticed two males walking on Santa Rosa Street approaching Olive Street. One of the males was wearing a jacket painted with the same tag that officers found in the morning. The man was also holding a skateboard that had the same tag on the underside of the board. 
The officer detained the man, 19-year-old Benjamin Cain. 
A caller later reported additional graffiti at French Park. Police found 12 locations in the park and surrounding neighborhood with the same graffiti. 
The police department is requesting the SLO County District Attorney's Office charge Cain with vandalism.