Grover Beach police searching for suspects who used stolen credit
April 12, 2023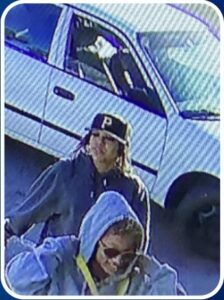 By JOSH FRIEDMAN
The Grover Beach Police Department is asking the public for help identifying two suspects who allegedly used a stolen credit card last week. 
Police suspect the two individuals used a stolen credit card in Grover Beach at approximately 8:36 a.m. on April 5. The police department released an image of the suspects that appears to show a woman wearing a baseball cap and a man with a hood and sunglasses on. 
Officials request that anyone who recognizes the individuals call (805) 473-4511 and speak with an officer or call the police department's anonymous tip line at (805) 549-7867.